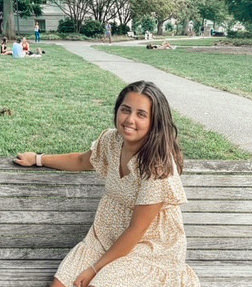 Emma Scielzo
Hi y'all! My name is Emma but most people call me Em! I am a 4th generation Rockbrook girl & I am so excited to be back on staff again this year. I grew up always looking forward to my summers at RBC & I love sharing that excitement with my campers. I am big fan of chilling at the lake & getting some mermaid laps in. Camp is where I met some of my best friend, role models, & big sisters and I am so excited to meet everyone that I don't already know! I am originally from Atlanta, Georgia but moved to DC when I was young. I love to travel & explore & get outside as a much as I can.
Fun Facts
A Surprising Thing About Me
I have a hotel roomkey collection over almost 1200 cards!
Favorite Quote
Have Courage & Be Kind
Favorite Movie
Any Harry Potter
With an hour of free time, I like to...
Bake & watch a good tv show
Sing, Dance, or Both?
Dance!!
Last Book I Read?
Fatal Vision
Personal Interests
Dancing, Baking, Swimming, & traveling
Favorite Camp Food
pumpkin chocolate chip muffins